Welcome to Year 3's Class Page
We're ready for a new term in our shiny new school and our amazing new classroom!
A quick reminder...
We will still be doing PE on a Wednesday afternoon with our Superstar friends, but we would prefer it if the children brought their PE kits into school rather than wear them.
We will also be doing a PE session on Thursday too!
Our Summer Topic is: France.
If you have any information you wish to bring into school about France, we would be delighted to see and share it.
Our Spring topic is Space!!
Take a look at our what Year 3 will be up to in the Spring term.
We have been on some great trips this term and have learnt a lot about the Tudors. Ask any of us in Year 3 and we can tell you about Henry VIII and his wives, Tudor clothes, the Battle of Bosworth and even Tudor portraits!
In St Fagan's we tried on some Tudor clothes and looked around some rich and poor Tudor houses. At Cardiff museum, we studied a Tudor portrait and in Llancaiach Fawr we went back in time and spoken to some Tudor people... they spoke in Old English and didn't even know what a guitar was!!! We all put our feet in the stocks too!
We are really enjoying learning about the Tudors!
For the next few weeks in Literacy, we will be looking at how to write instructions. We will be looking at the book 'How to Wash a Wooly Mammoth' to help us find the features of good instruction writing.
RE
We made some marvellous candles this week in RE and decorated themwith symbols personally important to us.
RE
This half term we have been learning about celebrations and have looked mostly at the celebration of Passover. On Wednesday we tried Charoset which is part of the Seder Plate, an integral part of the Passover celebration. Ask your children about Passover, the Cedar Plate and what they thought of the Charoset - they are all fantastic in this area of learning!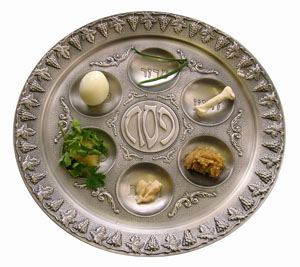 The Seder Plate has several things which are symbolic of the Passover Story.
A lamb bone

Charoset

Bitter Herbs

Green Vegetables

Egg

Salt water

Flat Bread
Next half term we will be learning about the importance of light in celebrations around the world. Can you think of some reasons why light is so important in celebrations?
This term our topic is The Tudors.
So far, we have been learning about the Tudor Rose. The children have created some fantastic comic strips about the Battle of Bosworth and have been plotting their own coordinates for the battlefield!
We will be looking at Tudor Crime and Punishment, everyday life, Kings and Queens and food. We are hoping to organise some great trips for the children to find out more about The Tudors.
In Literacy, we have been really enjoying Flat Stanley. We have started thinking about our own 'round' characters ready to write our own fictional story. The ideas are great... Round Ronaldo, Round Rosie and Round Russell (to name a few) and Miss Hurd is enjoying reading how some of the characters became round!
Year 3 have just started Class Dojo. We all have our own friendly monsters and can get a point for great behaviour, fantastic work and for doing something that makes someone smile
. Miss Hurd, Mrs Lawrence and Mrs Garcia have their own monsters too!